... it's only one of my favorite movies and I wanted to watch it tonight because it would have been the one wholly selfish thing I've done all day today. Really!
But the baby was being a fussypants (and an eat-pants) all day and I'm tired and Geoff is tired and, well, he's asleep in his recliner and I'm blogging.
I am hoping that Kim will come over sometime during the day (when Geoff is at work) next week so we can watch it together.
Patrice Leconte is probably my favorite director and I NEVER pay attention to that crap. But so far I've absolutely loved:
The Man On the Train
The Girl On the Bridge
Intimate Strangers
Leconte has a way of showing the rawness and the truth of each character in his movies. They're so touchingly real and fragile and there's always this ... vulnerable human-ness in them. I can't explain it.
The most "accessible" to start (if you wanna become obsessed with Leconte as I am) would be Intimate Strangers, but I absolutely adored The Girl on the Bridge -- so much so I cut my hair short and dyed it brown the day after I watched it.
Of course, Vanessa Paradis gets to wake up every morning to this: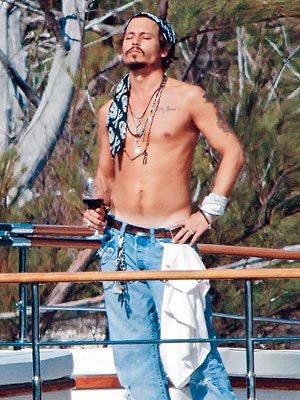 So, I mean, can you blame a girl for loving -- and wanting to be -- her?
I think it's time for a Mai Tai and then off to sleep...